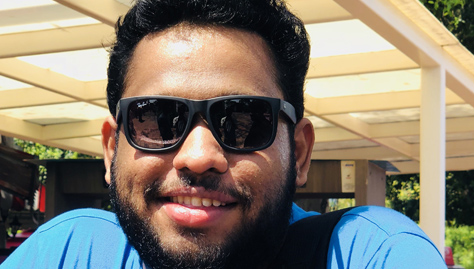 Never Give Up: Praveen Kumar Mahesh
From hospitality industry to being a musician and now an entrepreneur, Praveen Kumar Mahesh (CEO ARKS JET) is a living witness to the fact that there are lots of twists and turns in one's life. But the core of the belief is never to give up.
In a freewheeling chat with page3now, the young entrepreneur talks about his life journey, his good and bad experiences and of course, his success mantra.
From doing your MBA from Delhi to your new start-up in New York – tell us about your journey?
Born and brought up in Chennai, I had my schooling only till 9th standard as I had to quit due to challenging financial conditions. I had to then complete my schooling all by myself. Besides, to support my family, I had start working at a restaurant. I always had a passion for food. So, I joined an international programme in Hotel Management and successfully completed it. Only after getting into the hospitality industry, I came to know that it was far more complicated than I thought. I also got into making jingles for part time earning.
It was time then to move out of my comfort zone. I went to Himachal Pradesh to pursue my BBA. I spent three years there. Initial days were very tough because of communication issues as I was struggling with Hindi and really took some time for me to adapt to the climate and food. After my first year, I spent most of my days back at home just went to HP to take the exams and that's how I completed my undergraduate course.
How did the entrepreneurship bug bite you?
One day I was hanging out with my school friends and that's when we decided that we should start something and become an entrepreneur. That was just the beginning. I was really good at photography. In 2013-14 won some international awards as well in countries like Singapore. In the year 2014, I met with a severe accident which changed my life entirely. I was almost declared dead and my parents had to really struggle to bring me back to life. I was even taken to London for treatment and somehow the prayers and their efforts of my family and friends didn't go in vain as I gradually got better.
And then in the year 2016, after two years of break, I made one of the best decisions of my life to move to Delhi to pursue my PGDM. Even though I got into a premier institute in a Pune, I followed my intuition to move into Delhi. I got admission in Asian Business School; which played a major part in upgrading my life. Before getting into ABS, I never had a leadership experience. It was there (ABS) my classmates chose me as the representative of the class on 16 September, 2017. That's when the lost confidence was regained.
During my third semester, when there was a talk about placements going on,  that's when I decided that I have to do something to become an entrepreneur because I always knew that I can never work under anybody and can perform good only when I'm on my own. Finally, at the end of November 2017, I got an idea about a Private Jet business and that's when I brought my school friends into it. We worked out an idea but we struggled a lot to get funds for our business. We failed 18 times. We contributed some money from our savings. Then we sent our CTO to New York to speak to the investors and at that time we were making all the strategies sitting at home. Finally, he (CTO) got a call from an airline company saying that they were interested in our start-up and that's when in the next 13 hours I took my flight to New York and cracked the deal with them.
Then we also cracked deals with a prominent hardware and software company. And that's how 'ARKS JET' (my start-up) came into existence. ARKS JET will soon be having seven total branches across the world. Our New York branch will be operational from this November and then soon in December our Cupertino's branch will be ready, followed by Dubai, Chennai, Delhi, London and Sydney.
You've been observing the industry with a keen eye. What are your thoughts on its evolution in the last five years?
About 75 percent of the Private Jets across the world were just hung up in the hanger since they were only affordable for the super rich people. And there was not a single proper company which could commercialize it and make it affordable for the upper class and rich people. And that's where our start-up had a role to play.
Share your experiences before you launched your start-up?
Nothing much, just few internships and the hospitality experience. But I was always motivated and never missed an opportunity to learn things. I will proudly say that I have learnt more on the streets than in classrooms. So, my experiences came only from my failures.
Would you say these experiences moulded you as an entrepreneur?
These experiences taught me not to give up and always follow my heart. Yes, I may fail but that doesn't mean that the goal is not worthy enough. The key to success for an entrepreneur is to not give up at any point of time. Moreover, it's not just about me it's but about the people who work for me as well. So the one main thing that stands out is always stay motivated no matter what the situation is and keep everyone on their toes. Failure is not the end of the road. It's a way of learning to succeed in a better way.
What's your take on the relationship between businesses and digital media?
Digital media plays a big role in business these days. If you take pages like tech insider, Insider, NTD and many more such digital platforms, they all are a way to reach to the people and let the world know that what they are. So digital media plays very important role for any business to grow.
One thing you love about the industry? And one thing you hate?
The thing is love is that it is not restricted to a particular place. It is everywhere wherever you go. And I can never hate the industry. If I had hated it, I would have never been a part of it (smiles).
One piece of advice for young entrepreneurs starting out in the industry?
There will number of challenges. But the mantra is to never give up and try changing things to yes. Everyone will not like your business. But that shouldn't stop you from exploring. So keep striving to achieve the goal.
Any new venture in the offing?
We are already into hospitality and music industry. Other than jets, we are into education sector now. In an year or so, you can expect us to be a part of that industry too.
What do you like to chill out?
Travel, Travel and Travel!
List three books that you keep going back to…
Steve Jobs by Walter Isaacson
Barking up the wrong tree by Eric Barker
You can Win by Shiv Khera
Your top travel destination in the world…
It's definitely New York.
Your favourite restaurants in Delhi?
The Qube – The Leela Palace and Moti Mahal