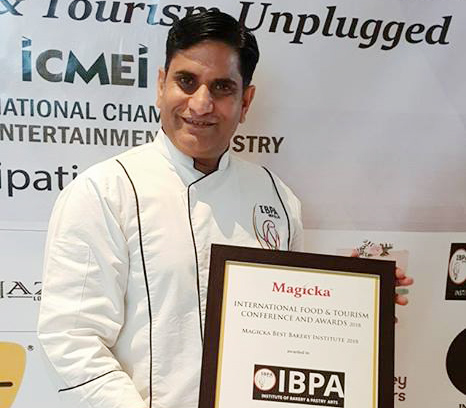 Balendra Singh, a maverick Chef with a tremendous flair for innovation and dedication
Balendra singh is astute and professional Pastry Chef with superb local and International experience with flair for innovation and acumen of international pastry cuisine. He is a dedicated Pastry chef, who initially studied His art in The GIHM DEHRADUN with focus on bakery and confectionary. He worked with top luxurious International Branded Hotels, and Cruise ship around the world. He believes ultimate guest satisfaction can only be achieved by never cutting corners and following strict hygiene norms in all processes.
As he Say ''Eating fuels the body, but eating good food fuels the soul''.  Over a span of 18+ years with 3 preopening hotel , 3 local bakery setup and  heading the opening of 2 Pastry Academy in Delhi. He has worked with various world class hotels and gathered great exposure and experience to exceed the expectations of his guests and peers, in fact dazzle and delight them with his product, his service and his attitude.
The desire to reach the heights of his profession and never cease discovering the vast world of gourmet is his driving force.
 He started his career with Umaid Bhawan Palace in 2003 as Commie. From there he has joined The Grand 2005 as Kitchen Management Trainee and has moved to Carnival Cruise Line in 2007 as Chef de Partie. Rejoined The Grand in 2009, moved to Westin Gurgaon in 2010 as a Chef De Partie Preopening hotel , and then he has joined next Preopening JW Marriott  in 2013 as a Pastry Sous Chef.  Joined Next Preopening in 2015 Pullman and Novotel as Assistant Pastry Chef. And Moved in Taj Mahal Hotel New Delhi as a Pastry Chef. and held a position an Executive Pastry Chef  at reputed culinary Institute in New Delhi  teaching cooking and management courses.
After enjoying 17 years with the industry and finesse his skills as a pastry chef and Best chocolatier, he returned to his roots in culinary education. An endeavor to impart this knowledge of his, 'Excellence' programmed has been introduced, which consists of a mélange of Pastry, Chocolate and Entrepreneurship. He started his own INSTITUTE OF BAKERY & PASTRY ARTS (New Delhi) and also started" Balendra's Baking Classes" (BBC), every month in different five star hotels all over India.
Specialties: Micros update and programming, costs and selling prices, Menu Engineering Microsoft Excel Food cost analysis, monthly forecasts, purchases, opening and closing stock figures, revenue forecasts and actual, staffing productivities Microsoft Word, Vander Management.
Certificate of Hygiene and HACCP (USA, CCL)
Certificate of Hygiene and ISO22000 (INDIA)