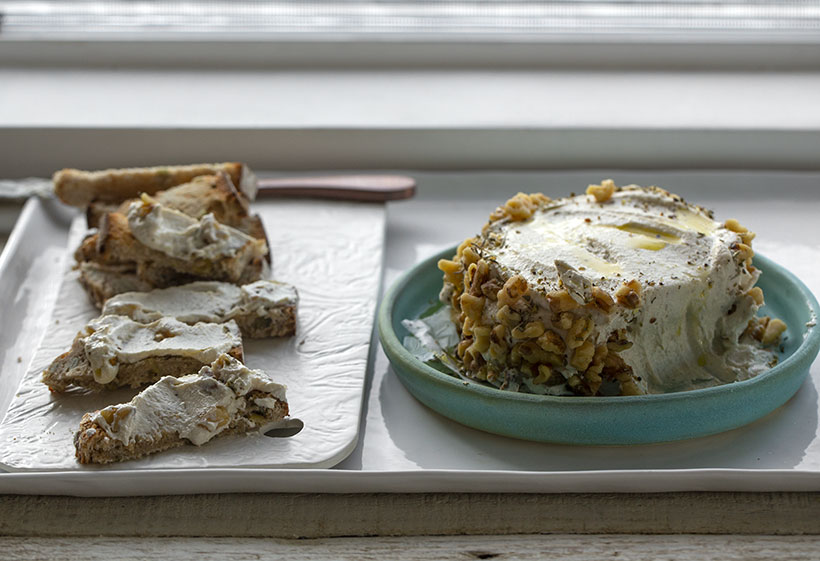 Party-Ready Cashew Cheese Spread
This dreamy, party-perfect appetizer is going to be a must-have recipe for the upcoming holiday season! My vegan walnut-crusted Cashew Cheese Spread is made without the need of a cheesecloth. The texture is spreadable and smooth, yet firm enough to create a pretty cheese shape and to allow you to rim the edges with whatever nut or herb you'd like. 
So before the official holiday season begins, test this out a few times and you will see how easy and impressively delicious this 'cheese" appetizer is!..
Cashew Cheese Play. Cashew cheese is such a fun recipe to play around with in the kitchen because there are so many ways to flavor it. I started out this recipe brainstorm thinking I wanted a cheese ball, but ending up being absolutely in love with what it ended up being. Uber creamy, spreadable and party-perfect cheese dip. And the best part is that you do not need a cheesecloth to make this, as you might with a cashew cheese ball.
BUT if you really want to make this into an actual cheese ball, which will have a drier texture and slice, then by all means, pull out your cheesecloth and drain a bit more moisture out of this mixture. But for today, I wanted to make things as easy as possible. And luckily, the taste and texture of this recipe is super dreamy.
How to enjoy it. We have been enjoying this spread on bread, veggies and bagels all weekend long. SO GOOD on toasted bagels! Add a slice of tomato and bit of spinach or red onion – capers or sprouts and boom – bagel bliss.
Bake it! One extra step I did not take is to actually BAKe your cashew cheese. For this method, you prepare as is, but instead of chilling in the fridge, you scoop the mixture into an oven-friendly serving dish and bake it at a low temp for a few hours. You can see how I do this in this recipe: Baked Cashew Cheese.